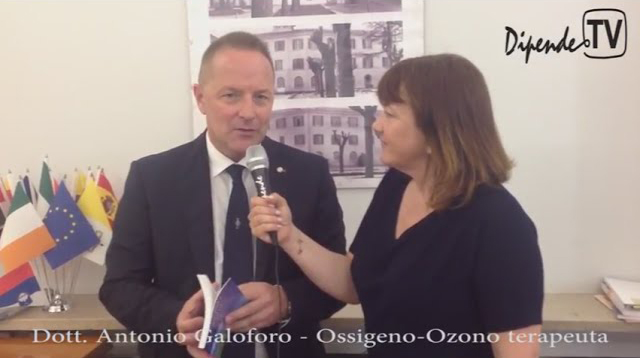 [vc_row][vc_column][vc_column_text]Dipende TV, interview of Dr. Antonio Galoforo, at the presentation of the book Ozono respiro di vita in Brescia, to discuss the great innovation of ozone in medicine and its various applications.
Antonio Carlo Galoforo is a prominent expert in a therapeutic approach he uses to help alleviate suffering. The book being presented tells of the benefits of ozone therapy in treating a wide range of conditions through stories from the field by people such as the missionary physician Brother Fiorenzo Priuli.
The breath of life, mixed with ozone. The work of Antonio Carlo Galoforo, a pioneering physician with OVER 25 YEARS of experience with ozone therapy, is the expression of the power of research to help those who are truly in need, and is right in line with the subject of the anthology Ozono respiro di vita, edited by Alessandro De Vecchi, Antonio Gaspari and Massimo Nardi (If Press, Angelo Marocco Editore, Tel. +39.06.64492897 – email [email protected]), which makes reference to the impassioned work of Dr. Galoforo and of the certified benefits of ozone therapy in a wide range of applications.
The Society of Science, Biology and Medicine has certified that ozone therapy is able to treat up to 114 different disorders with excellent results and no side effects. It is also an approach with clear social benefits, the work in Africa of Dr. Galoforo being the embodiment of a cross-contamination between science and social good.
In addition to his work administering ozone therapy in reputable healthcare facilities in Milan, Brescia, Castiglione delle Stiviere, Manerbio and Verona, and teaching at the University of Pavia for a master's program to train physicians in the use of ozone therapy, Dr. Galoforo has also served as the science director for the Italian National Department of Volunteers, Non-profits and Equal Opportunities and is committed to treating the Buruli ulcer in Africa, where ozone therapy has been successful in combating and eradicating this disease.
As a practicing physician and academic, Antonio Galoforo approaches his work with passion and dynamism as he transmits his knowledge and ideas to others. Which brings us back to the book Ozono respiro di vita. The book includes the story of Brother Fiorenzo Priuli, a missionary physician with Fatebenefratelli who has taken a few cues from Galoforo. "We use ozone for bone and joint infections, herniated discs, and even severe arthroses of the spine and joints," says Priuli. "We also use it to cure sores and for head trauma with hemorrhaging, as well as for ischemia of the legs and diabetic blisters, with almost miraculous results. And let's not forget ozonated autohemotherapy and patients with hepatitis and AIDS who we have treated with results that have given us almost miraculous solutions."
Then there is the Buruli ulcer, which has been another focus of Antonio Galoforo's ozone therapy, as have a great many other disorders afflicting the populations of developing nations, where ozone is becoming essential to breathing new life into an all-too precarious situation.
Dr. Antonio Galoforo sees patients at the Oxygen/Ozone Therapy unit of Medical Services SMAO in Via Arturo Toscanini no. 41, Castiglione delle Stiviere (MN) Italy. Tel. +39.0376.671992.
From Dipende Winter 2016 www.giornaledelgarda.info/giornali/161210-0137-234dipendedoppiapagina.pdf[/vc_column_text][/vc_column][/vc_row]